Science: Advancing Knowledge To Optimize Quality Care for Families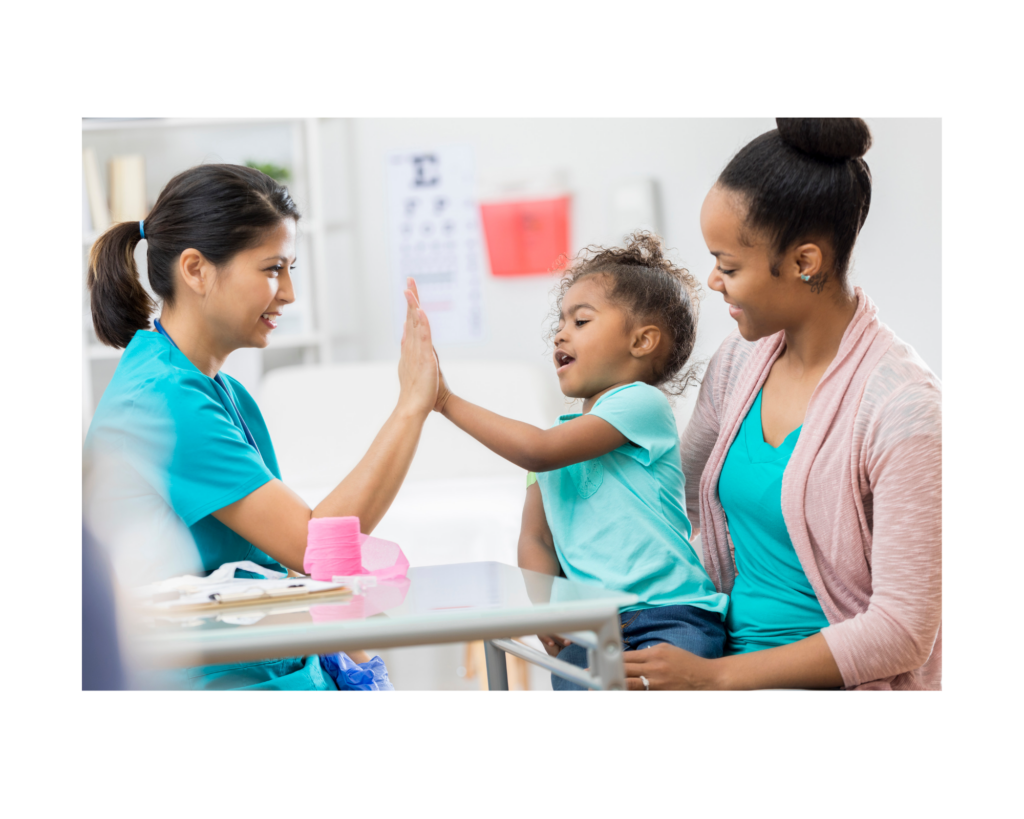 Scientific discovery is crucial to addressing children's mental health at an early age. Prevention and early intervention can dramatically alter a child's trajectory. Our clinical research programs are guided by responding to needs of those who we are fortunate to serve and improving upon our delivery of services. We partner with research groups, such as the BLESSED Research Group, to ensure culturally sensitive and responsive practices are utilized.
The IECMH program is a collaboration with the Early Childhood Innovation Network (ECIN). Founded by Dr. Matt Biel and Dr. Lee Beers, ECIN programs work across sectors to support caregivers to provide healthy foundations for young children. Using rapid-cycle quality improvement, ECIN provides essential input on community needs based on projects that are community-driven. Through collaboration with ECIN programming, the Early Childhood Program is able to provide quality services sensitive to the community's needs and a process for continuous evaluation.
Here are a few projects currently underway:
Dr. Erica Coates and Dr. Emily Aron received a MGUH Department of Psychiatry Pilot Grant for a study titled "Addressing Attrition and Mental Health Care Disparities: A Pilot Study of PCIT Assessment with Black Families." This funding will help to explore potential adaptations of the assessment process to provide culturally sensitive and relevant care.
Dr. Liz Desmeusy was accepted into the 2023 Training Institute for Research in Child Abuse and Neglect that takes place this January in New York City. This is a weeklong multidisciplinary training that is centered around child abuse and neglect research, with ongoing collaboration and mentorship for proposed research related to this topic. She will be identifying ways to incorporate this training into the work she is currently doing with the Early Childhood Program.
We know that supporting families is crucial for early childhood development. Dr. Amalia Londoño Tobón is currently working on projects to improve access to mental health services for families during the preganncy and post-partum period.
Publications
Many of our clinicians have written scholarly articles, contributing vital insights to the field of infant and early childhood mental health. Click here to learn more (click on + sign for dropdown of list)
Coates E, Moore C, Watson A, de Heer R, McLeod A, Prudhomme A. "It's Important to Work with People that Look Like Me": Black Patients' Preferences for Patient-Provider Race Concordance. J Racial Ethn Health Disparities. 2022 Nov 7:1–13. doi: 10.1007/s40615-022-01435-y. Epub ahead of print. PMID: 36344747; PMCID: PMC9640880.
Harrison J, Aron E, Chesher T. The Crisis in Children's Mental Health: What About the Babies? J Am Acad Child Adolesc Psychiatry. 2022 Nov 1:S0890-8567(22)01892-5. doi: 10.1016/j.jaac.2022.07.846. Epub ahead of print. PMID: 36332847.
Scott JT, Prendergast S, Demeusy E, McGuire K, Crowley M. Trends and Opportunities for Bridging Prevention Science and US Federal Policy. Prev Sci. 2022 Nov;23(8):1333-1342. doi: 10.1007/s11121-022-01403-2. Epub 2022 Aug 5. PMID: 35930099.
Murry VM, Gonzalez CM, Hanebutt RA, Bulgin D, Coates EE, Inniss-Thompson MN, Debreaux ML, Wilson WE, Abel D, Cortez MB. Longitudinal study of the cascading effects of racial discrimination on parenting and adjustment among African American youth. Attach Hum Dev. 2022 Jun;24(3):322-338. doi: 10.1080/14616734.2021.1976926. Epub 2021 Oct 26. PMID: 34697999.
Condon EM, Londono Tobon A, Jackson B, Holland ML, Slade A, Mayes L, Sadler LS. Maternal Experiences of Racial Discrimination, Child Indicators of Toxic Stress, and the Minding the Baby Early Home Visiting Intervention. Nurs Res. 2021 Set/Oct 01;70(5S Suppl 1):S43-S52. doi: 10.1097/NNR.0000000000000529. PMID: 34173377; PMCID: PMC8405547.
Lane A Jr, Gavins A, Watson A, Domitrovich CE, Oruh CM, Morris C, Boogaard C, Sherwood C, Sharp DN, Charlot-Swilley D, Coates EE, Mathis E, Avent G, Robertson H, Le HN, Williams JC, Hawkins J, Patterson J, Ouyang JX, Hartz KA, Beers LS, Cole L, Biel MG, Bodrick NI, Bravo N, Baylor RS, Arbit R, Zuskov SF, Hoffman SB, McPherson SKL, Singh S, Greer SE, Banks-Mackey SN, Caleb S, Thomas S, Brent T, Spencer T. Advancing Antiracism in Community-Based Research Practices in Early Childhood and Family Mental Health. J Am Acad Child Adolesc Psychiatry. 2022 Jan;61(1):15-22. doi: 10.1016/j.jaac.2021.06.018. Epub 2021 Jul 22. PMID: 34303784.
Demeusy EM, Handley ED, Manly JT, Sturm R, Toth SL. Building Healthy Children: A preventive intervention for high-risk young families. Dev Psychopathol. 2021 May;33(2):598-613. doi: 10.1017/S0954579420001625. PMID: 33757620; PMCID: PMC8105280.
Berry OO, Londoño Tobón A, Njoroge WFM. Social Determinants of Health: the Impact of Racism on Early Childhood Mental Health. Curr Psychiatry Rep. 2021 Mar 12;23(5):23. doi: 10.1007/s11920-021-01240-0. PMID: 33712922.
Jessica X. Ouyang, Jessica L.W. Mayer, Cynthia L. Battle, Joanna E. Chambers, Zeynep N. Inanc Salih; Historical Perspectives: Unsilencing Suffering: Promoting Maternal Mental Health in Neonatal Intensive Care Units. Neoreviews November 2020; 21 (11): e708–e715. https://doi.org/10.1542/neo.21-11-e708
Biel MG, Coates EE. Editorial: Sharpening Our Focus on Early Adversity, Development, and Resilience Through Cross-National Research. J Am Acad Child Adolesc Psychiatry. 2021 Feb;60(2):219-221. doi: 10.1016/j.jaac.2020.08.013. Epub 2020 Sep 2. PMID: 32890668.
Glickman, C., Huynh-Nhu, Le., Robertson, H., Arbit, R., Danielson, A., Patchen, L., Fries, M., Scott, R., Biel, M., (2020). Black Women's Preferences for Embedding Mental Health Services in An Obstetrics Setting. Journal of Maternal and Child Health. 05(04): 352-364.
Demeusy EM, Handley ED, Rogosch FA, Cicchetti D, Toth SL. Early Neglect and the Development of Aggression in Toddlerhood: The Role of Working Memory. Child Maltreat. 2018 Nov;23(4):344-354. doi: 10.1177/1077559518778814. Epub 2018 Jun 6. PMID: 29874924.
Robertson, H.A., Arbit, R., Le, H.N., Danielson, A., Wambach, C., Mathis, E.T., & Domitrovich, C.E. (2018). Integrated mental health care in an obstetrics setting in Washington DC: A mixed- method study. Poster presented at the Society for Prevention Research 26th Annual Meeting, Washington, D.C.
Huynh-Nhu Le, Sammy S. Dhaliwal, Ruthie Arbit, Hilary Robertson, Aimee Danielson, Rachel Scott (2017). Increasing Early Identification of and Access to Perinatal Behavioral Health Care in Washington, DC. Symposium Presentation at Perinatal Mental Health Conference held in Chicago, IL, November 7- November 9, 2017.
Huynh-Nhu Le, Aimee Danielson, Sammy S. Dhaliwal, Hilary Robertson, Ruthie Arbit, Rachel Scott (2017). Assessing the Feasibility of Integrating Mental Health Care in an Obstetrics Setting. Poster Presentation at Perinatal Mental Health Conference held in Chicago, IL, November 7- November 9, 2017.
Thurston IB, Phares V, Coates EE, Bogart LM. Child problem recognition and help-seeking intentions among black and white parents. J Clin Child Adolesc Psychol. 2015;44(4):604-15. doi: 10.1080/15374416.2014.883929. Epub 2014 Mar 17. PMID: 24635659; PMCID: PMC4167161.
McHale JP, Coates EE. Observed coparenting and triadic dynamics in African American fragile families at 3 months' postpartum. Infant Ment Health J. 2014 Sep-Oct;35(5):435-51. doi: 10.1002/imhj.21473. Epub 2014 Aug 21. PMID: 25798494.
Warren SL, Umylny P, Aron E, Simmens SJ. Toddler anxiety disorders: a pilot study. J Am Acad Child Adolesc Psychiatry. 2006 Jul;45(7):859-66. doi: 10.1097/01.0000220852.94392.eb. PMID: 16832323.
Warren SL, Gunnar MR, Kagan J, Anders TF, Simmens SJ, Rones M, Wease S, Aron E, Dahl RE, Sroufe LA. Maternal panic disorder: infant temperament, neurophysiology, and parenting behaviors. J Am Acad Child Adolesc Psychiatry. 2003 Jul;42(7):814-25. doi: 10.1097/01.CHI.0000046872.56865.02. PMID: 12819441.