Welcome to the Department of Psychiatry at Georgetown University School of Medicine.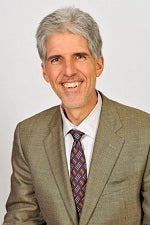 The mission of our department is to provide high quality mental health care and service to the community in an academic model that integrates teaching and research activities in everything we do. We are particularly focused on the integration of our mental health programs into our broader medical care system, ranging from our extensive outpatient programs serving Georgetown medical populations, to our research programs that study how to improve mental health for low-income individuals. We are committed to addressing systemic racism through involvement of faculty, resident and staff in implementing change. Our department's Equity, Diversity and Inclusion Committee, under the direction of Kristine Goins, MD, has continued to make critical contributions to these essential efforts.
Clinical services at MedStar Georgetown University Hospital include outpatient, inpatient, partial hospitalization and consultation programs that serve a wide array of patients. Our most active programs, all of which integrate training of our residents and medical students, include Child and Adolescent Services, Mood Disorders, Consultation-Liaison Psychiatry, Women's Mental Health, and Neuropsychiatry. Even in this challenging health care delivery environment, we treat patients across a wide income spectrum to facilitate collaborations with our medical colleagues and to serve as many individuals as possible, regardless of ability to pay. In 2015, we greatly expanded our community psychiatry programs by welcoming MedStar Washington Hospital Psychiatry into our department. Under the leadership of Dr. Elspeth Ritchie, Vice Chair at MWHC, the hospital offers outstanding inpatient, Consultation-Liaison, and outpatient opportunities.
Our rapidly growing Child and Adolescent Division, directed by Matthew Biel, MD, MSc, Vice Chair for Child and Adolescent Psychiatry, has become a national and local leader in innovative programs that target underserved populations. Faculty in the division have expertise in early childhood mental health, the effects of racism on medical practice, neurodevelopmental disorders including autism and ADHD, pediatric mood and anxiety disorders, trauma-related disorders, and pediatric psychosomatic disorders. We provide clinical services at Georgetown as well as in partnership with MedStar Montgomery Medical Center, under the direction of Marilou Tablang-Jimenez, MD. We have several additional key community partners, including integrated mental health services in primary care with our partner Federally Qualified Health Center, Mary's Center. We have significantly expanded our school-based mental health services and collaborate with public and public charter school systems in Washington. Our research activities in child and adolescent mental health are expanding rapidly as well, with grant-funded projects in early childhood mental health, trauma, school-based mental health, and integrated care.
Our teaching programs, under the direction of Mayada Akil, MD, Vice Chair for Education, provide outstanding training in our general psychiatry residency program. We also offer fellowships in Child and Adolescent Psychiatry (Colin Stewart, MD; Program Director) and Consultation-Liaison Psychiatry (Ted Liao, MD; Program Director). We provide extensive psychiatric education for Georgetown University medical students throughout all four years of their medical education. Residents and students also rotate through our valued affiliates, including MedStar Washington Hospital Center, MedStar Montgomery Medical Center, the Washington Veterans Administration Medical Center, Adventist Behavioral Health, and others. Our teaching faculty includes not only our 50 core faculty here at Georgetown, but over 150 voluntary faculty who provide invaluable educational contributions.
Our Research Division, under the direction of Mary Ann Dutton, PhD, Vice Chair for Research, has long-standing expertise in Child and Adolescent Psychiatry, trauma, and Huntington's Disease. Areas of focus include posttraumatic stress disorder, Neuropsychiatry, mental health service delivery for the underserved, community-based participatory research, mindfulness interventions, prevention of dating violence among rural African Americans, trauma among Latina immigrants, health disparities among African American adolescents, and mental health needs of torture survivors.
Finally, our department is dedicated to serving and improving care for underserved individuals in our community. In our department and affiliates, we treat substantial numbers of low-income patients and underrepresented minorities who are living with mental and physical disabilities. Our clinical and training partnerships throughout the MedStar Health System, VAMC, Mary's Center, and other settings provide academic-community partnerships in the hopes of improving the lives of such individuals.
I am proud of all of our outstanding faculty, trainees, and staff who enable us to achieve our mission and grow for the future.
Best regards,
Steven A. Epstein, MD, Chair